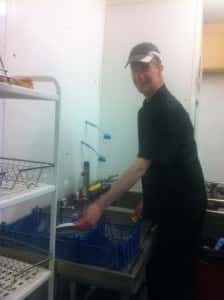 Your Voice Counts (YVC) Wise Steps participant secures his dream job working in the kitchen of a city centre Vegan restaurant in Newcastle city centre.
Nicholas, 34, from Jarrow, joined up to the Wise Steps programme in January 2017, with the goal of getting a paid job in the catering trade where he could use his skills. Since coming onto the programme, Nicholas' job coach Elaine has worked with him on his job application and interview skills, and supported him to gain his level 2 food hygiene certificate. One of YVC's 'travel buddy' volunteers also helped Nicholas to learn a new travel route from Jarrow to Newcastle to increase his independence.
Nicholas applied for a job as a kitchen porter in July and was successful in securing a position at The Bohemian, a vegetarian and vegan restaurant in Newcastle city centre. Helping out with the lunch time service 4 days a week, the staff at The Bohemian have welcomed Nicholas to their team.
Nicholas said: "I love the atmosphere in the kitchen. Getting the job has changed everything for me. I feel so excited. When I finish my shift each day I can't wait to come back again."
Vicky, restaurant manager at The Bohemian, said: "We gave Nicholas a work trial and were really impressed with his enthusiasm and his attention to detail. Nicholas is already proving a great asset to our team."
Elaine Atkinson, job coach at YVC, said: "It has been fantastic working with Nicholas. He was so focused and keen to start work. I'm delighted that he has achieved his goals."
For more information about Wise Steps, visit www.wisesteps.org.uk.