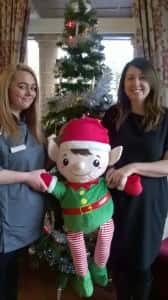 On day 3 of the Wise Group's #12EmployersOfXmas campaign Employability Elf, Arthur, visited healthcare company HC-One with gifts in hand, to say thanks for their support in helping people into work.
HC–One has worked closely with the Wise Group in Dundee, taking on a total of 7 people in various care-related roles.
One of these was Jade Menzies, who was referred to the Wise Group by Dundee City Council.
Jade wanted to return to work after having her family and had been at home with her children since leaving college in 2012. Despite being a single parent, Jade felt the time was right to look at returning to work.
She was excited about enrolling on a Wise Group Care Academy and during the week of training and activities she oozed enthusiasm. Jade had her sights set on a career in care, so she could put her skills to good use.
Having previously worked with graduates of Wise Group's Care Academies HC–One were keen to offer Jade a work placement as a care assistant.
Jade's manager Angela has confirmed that she is doing really well in the role and suggests that if all goes well the position could become a permanent one in the New Year.
Jade has thanked both the Wise Group and HC-One, for offering her a place at the Academy and a work placement opportunity.
pic – Jade (left) with Arthur and her manager Angela.
To find out more about Wise Group employability projects, or if your business could offer a work placement opportunity contact us on 0141 3033131 or email enquiries@thewisegroup.co.uk
To read more about #12EmployersOfXmas follow the hashtag on Twitter.