The Wise Group's Home Energy Scotland team support Robertson commitment to a sustainable future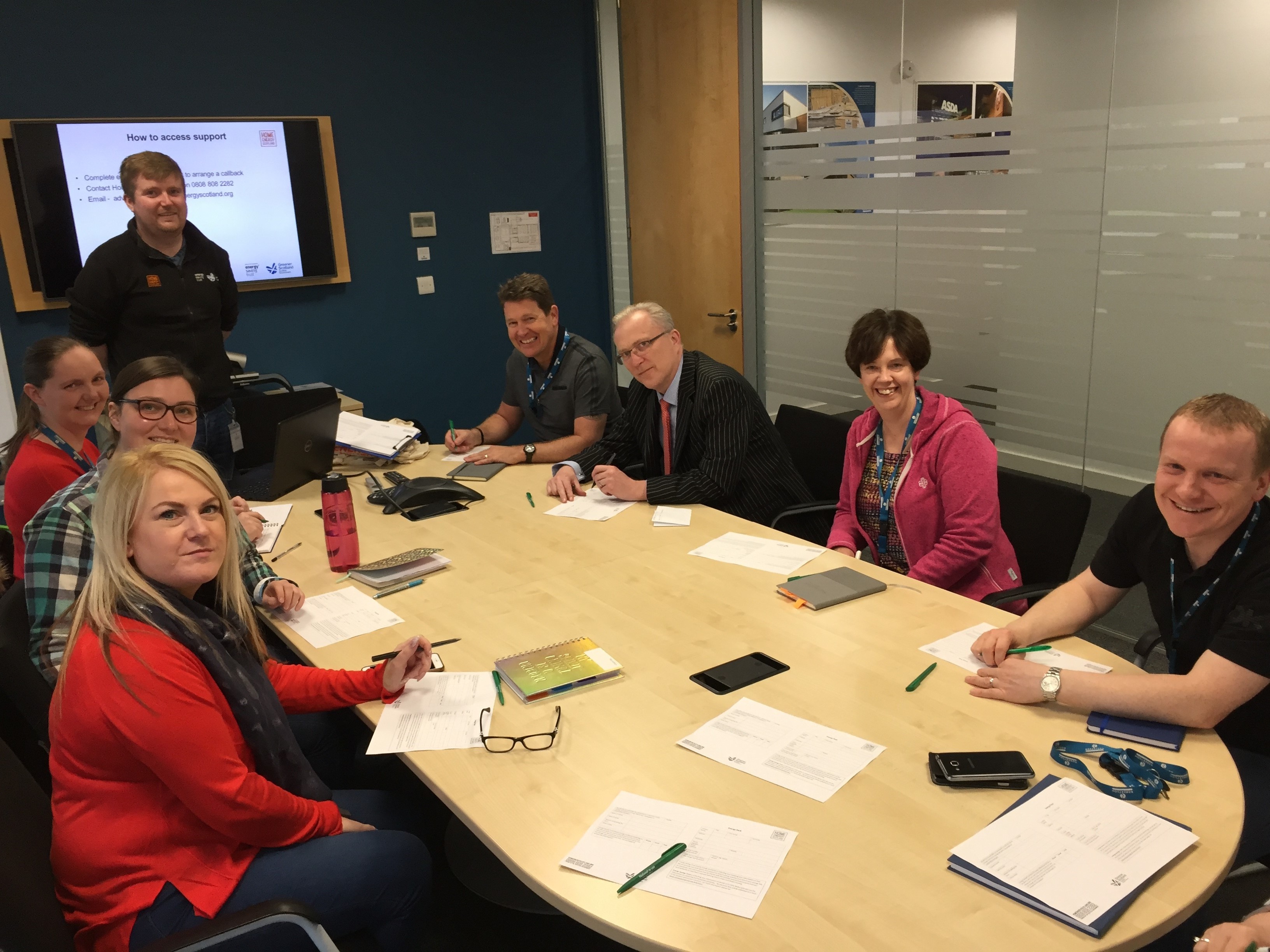 "The workshops were thought provoking and gave delegates some great knowledge and ideas to take forward."
Robertson, one of the largest family-owned construction, infrastructure and support services businesses in the UK, has been working in partnership with the Wise Group's Home Energy Scotland team and benefiting from the Home Energy Scotland outreach support programme.
Responding initially to a request from Head of Sustainability Graeme Hannah to provide support to their Stirling based staff team as part of the organisation's commitment to building a sustainable future, Outreach Officer Sam Gibson went on site to deliver food waste reduction workshop Love Food Hate Waste.
The session is interactive and fun as well as educational, and was well received, leading to a further request for Sam to deliver other workshops and training in the Home Energy Scotland portfolio as part of an ongoing programme for employees.
This included an energy efficiency workshop which proved so popular with staff that two sessions had to be delivered to accommodate the demand for spaces, and Home Energy Scotland involvement in Robertson's Learning at Work Week for which Home Energy Scotland advisors developed and delivered a workshop around active travel.
At the active travel session, Sam pointed out that embracing greener travel is easier that people think, with walking, cycling, car sharing, and public transport all being great alternative methods of transport that not only reduce travel costs but improve both our health and our environment.
Robertson colleagues explored and debunked barriers to active travel, and got involved in planning their own cycle routes to work. The team also learned how pedal assisted electric bikes (e-bikes) can be a great alternative to a car for short journeys, and jumped at the chance to test ride two different models of e-bikes for a more hands on experience – several in the team have followed up with Home Energy Scotland's transport specialist to book e-bike trials, alongside enquiring about interest free e-bike loans. These are available for up to £6,000 with a repayment period of four years.
The rolling outreach support programme with Robertson has proved hugely successful and a strong relationship has been firmly established. It has enabled Robertson colleagues to benefit to from a wide range of Home Energy Scotland workshop sessions available, and gain new insight into ways to adopt low-carbon behaviours both at home and at work.
Graeme Hannah, Head of Sustainability at Robertson said:
"Our purpose at Robertson is to assure a sustainable future. As a business we're trying to do all we can to ensure that this is the case, but we can all make a difference at an individual level too – including making responsible choices around what we eat, how we travel and how we live in our homes. Home Energy Scotland helped us share this message, with some fun, interactive and myth busting workshops. These were thought provoking and gave delegates some great knowledge and ideas to take forward."
Laura Blyth, Learning & Development Consultant at Robertson added:
"For Learning at Work Week 2019, we invited along Home Energy Scotland to deliver their sustainable travel workshop, following some engaging and valuable sessions they had already delivered for us earlier in the year on zero food waste and energy efficiency. All attendees thoroughly enjoyed the session, especially the opportunity to trial the ebikes."