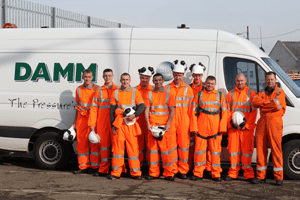 It is widely recognised that skills and the readiness for work are key factors in helping ex-offenders access employment. It is also known that there is considerable evidence that ex-offenders who get and can sustain employment are less likely to re-offend.
One of the major stumbling blocks is the willingness of many employers in all sectors to recruit people with an offending background.
DAMM Environmental is one of the exceptions.
DAMM is one of the leading independent drainage and environmental companies in Scotland. As well as drainage repairs they carry out CCTV pipeline inspections, graffiti/gum removal and high pressure water jetting. They are the only drainage company in Scotland that has their own training facilities. They recently recruited nine New Routes customers on to a four week intensive training programme.
Before being accepted on to the programme the customers went through a thorough selection process with the Wise Group. This started with mentors identifying customers that they felt would be the most suitad and were genuinely committed to working in this area of work.
They were then invited to DAMM for an interview. The staff at DAMM were honest with them about the type of work and what was involved in drainage services. This approach meant that all the customers stayed on the programme for the duration.
The four week training programme included all aspects of health and safety as well as the basic skills required for the drainage services industry. The first two weeks was classroom based and then in weeks three and four the trainees went out to live jobs to gain work experience.
DAMM was willing to offer employment to as many of the nine that completed the training as they could and committed to help find employment for all those that successfully completed the course. Four of the customers are now employed by DAMM and two are employed by Clearwater solutions. Two others have moved on to further training and one has had three job interviews to date.
"The boys from New Routes have more than exceeded our expectations, in attitude, behaviour and commitment. Hopefully this is just the start of a working relationship with New Routes and DAMM Environmental." Bruce Taylor, Director DAMM Environmental.
"We are grateful for this opportunity, this has got us all into a working routine and we have thoroughly enjoyed it so far." New Routes customers.