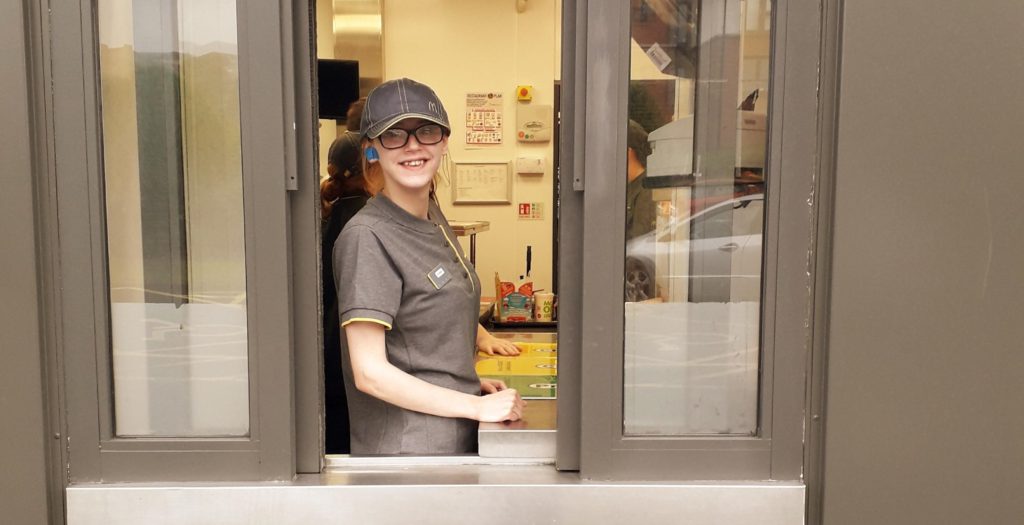 Gemma was facing mental health issues – she had been diagnosed with anxiety and depression. She was struggling to find work, and had been unemployed for two years, and began to feel even more anxious about finding a job and moving into work – she was worried about how she would cope with her mental health whilst working.
When Gemma started to feel she had been doing better, she was ready to explore her options with our Fair Start Team. She'd always wanted to work in Tesco or McDonalds, as she'd heard they were good employers and as had always seen herself working with people and interacting with customers.
"My work coaches really helped me to build my confidence and apply for the position I really wanted."
With the help of Street League, Gemma was helped to begin her job search. To fully understand what Gemma was going through and whether she needed any additional support with her mental health, Gemma's work coach spent time discussing it with her. As Gemma felt she was coping well, she began addressing other barriers.
Something that had been holding her back from getting a job is that she needed more experience. Street League set up a work taster with a cafe, where she met the manager and heard about what working in the hospitality industry entailed. Gemma enjoyed the taster, and felt confident enough to give it a shot, completing a week's work experience to get her started.
Taking part in group work and one-to-one sessions with  Street League helped Gemma to build her confidence and interpersonal skills whilst also working on employability skills like updating her CV, working on interview preparation and help with job applications.
Then, Gemma was offered an interview with McDonalds – somewhere she'd always been keen to work. Beforehand, her work coach carried out a mock interview to prepare her for the real thing – she aced both, and was offered the job.