Joe (62) has been unemployed for 24 years, and has faced several barriers on his journey, such as past alcohol misuse, a previous conviction and mobility issues. He had found it difficult to stay motivated towards getting into work.
Through Fair Start Scotland, Joe was given a personalised profile from his mentor. This detailed his skills, experience and where his strengths were. He had a lot of experience in construction and knew people in the industry, so felt that he would like to follow this path.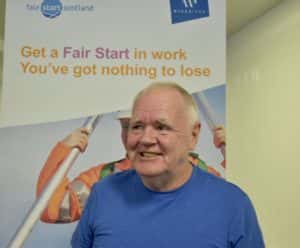 The first step was getting a Construction Skills Certificate Scheme (CSCS) card and gaining skills conducting Portable Appliance Testing (PAT). This would then allow him to seek out work testing electronic equipment.
Joe passed his CSCS training and got his Site Operative  card. He has also completed  Control of  Substances Hazardous to Health  (COSHH) training.
Joe has also updated  his employability skills, completing a CV & Interview Preparation course to prepare him for the next steps in his journey.
With the help of his Fair Start Scotland advisor, Joe has set up a Find  A Job account and is now feeling positive about his  options.
"So far I have found Fair Start  Scotland helpful, and my Fair  Start Scotland adviser, Richard, has been encouraging and supportive.
"I have done training that I didn't know about, like basic IT skills and updated my skills in construction and health and safety."
To find out more about Fair Start Scotland, click here.