Michael had completed a work academy with us and had moved into employment. However, he didn't take to the training and required extra support which he hadn't received in his new role. Michael is autistic and has certain requirements whilst learning new skills and information.
Michael then approached the Wise Group again in 2018, where he met Sam Coleman, Employer and Community Relationship Officer. Michael was keen to work in admin, so he went over his CV with Sam, who then worked to arrange an admin placement for him in Dundee.
As Michael would need support in any new role as he got to grips with the job, Sam had to be strategic when looking for  placements. Sam approached various employers, including DC  Thomson. We secured Michael a week long placement in DC Thomson's admin office.
However, Sam realised that Michael had other skills that he should be putting to good use, not necessarily in administration. Our team always go above and beyond the call of duty to  make sure the people they help are making the most of their skills, talents and qualities. This may be done through assessing where their strengths lie, or advising them which route would suit them best.
Sam then discovered that The Circle Dundee were looking for a maintenance assistant. Whilst this was completely different to what Michael had previously been doing, Sam was confident in Michael's abilities and felt Michael would thrive  in the role.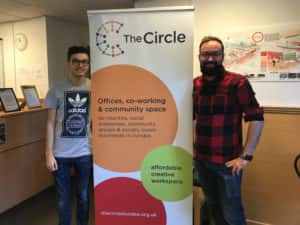 As a maintenance assistant, Michael would, on a volunteer basis, set up rooms for events, take meter readings and perform any other general tasks. Sam arranged for Michael to spend 13 weeks as a volunteer, however Michael was, understandably, a tad reluctant. The Wise Group prides itself on working with other like-minded  organisations and people, so Sam was more than happy to go along with Michael to the offices for a chat. Making sure Michael felt comfortable was hugely important to Sam. All of our mentors, coaches and advisers are committed to making their  participants and customers  feel  as comfortable, safe, appreciated and supported as possible.
After meeting with Paul Hastie, General Manager at The Circle, Michael was sold.
Michael started his placement and within weeks was thriving. Paul saw the potential in Michael that Sam and many others had seen – he wanted to take Michael on as a full-time employee. After applying for funding through Community Jobs Scotland, delivered by SCVO in partnership with the Scottish Government and Scotland's third sector, Michael's application was successful.
Michael is now a full-time member of staff, and the change in him is huge, says  Sam:
"The way he talks, the way he walks and how he carries himself has changed drastically. What occurred to me only recently was the amount of people across Dundee that had gladly lent their time to help.
"Michael has some great people skills but the list of people that offered their support during his journey is quite something.
"I met Michael in April and promised him I'd find him a job before Christmas. It's been a real journey but thanks to a handful of good people, who have been more than generous with their time, I kept my promise to him. I'm incredibly proud of him. I'm thankful for the kindness of people. And I'm a tiny bit proud of myself. Belief in someone can often go a long way."
For more information on the Dundee Employability Pipeline, click here.