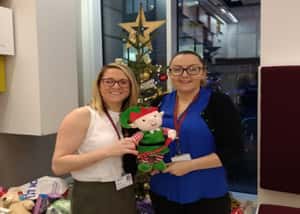 Buddy, one of Wise Group's Employability Elves whizzed along to Wheatley Group, who manage the Way Ahead programme, to say thanks for helping people into work.
Wheatley Group welcomed their special guest on the final day of Wise Group's #12EmployersOfXmas campaign which highlights employers that go above and beyond what could be expected of those helping unemployed people to get jobs.
The Way Ahead Project offers one-on-one support to help people on the journey into work, helping them remove or manage the barriers they face.
Kirsty MacLeod from Wheatley group said "We have been fortunate enough to get Way Ahead candidates onto our Changing Lives Programme and make a difference in their lives.  As well as coming onto the programme we have also succeeded in gaining secure permanent employment for a number of Wise Group candidates."
(Pic: Kirsty MacLeod and Charli Griffin from the Wheatley Group.)
If you'd like to know more about how Wise Group employability projects could benefit you, or your business, call 0141 3033131 or email enquiries@thewisegroup.co.uk
Or, to see more employers visited during the campaign, follow #12EmployersOfXmas on Twitter.