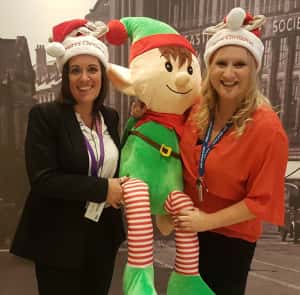 Wise Group's Employability Elf, Clara, popped in to the Premier Inn in Newcastle, with presents in hand, to say thanks for supporting people in to work.
Clara is one of three elves visiting 12 different employers on the 12 days running up to Christmas to show recognition to employers that have worked closely with Wise Group employability projects over recent months.
Premier Inn, at The Gate in Newcastle, is one such employer having helped people benefitting from Wise Group's Employability Skills projects by offering placements and job opportunities.
In November Wise Group and Premier Inn linked up to provide a week long Customer service course, followed by a tour of the busy city centre hotel and a guaranteed interview with the employer, which led to four two week work trials.
Rob and Evelyn started the work trial with reservations, but with the support from housekeeping staff and the management at Premier Inn they both successfully completed their work trial and loved it !!
Their hard work and commitment over the two weeks paid off as they were both offered permanent roles as housekeeping staff, starting early in December.
If you'd like to know more about how Wise Group employability projects in the North East could benefit you, or your business, call 0191 242 4898 or email enquiries@thewisegroup.co.uk
Or, to see more employers visited during the campaign, follow #12EmployersOfXmas on Twitter.