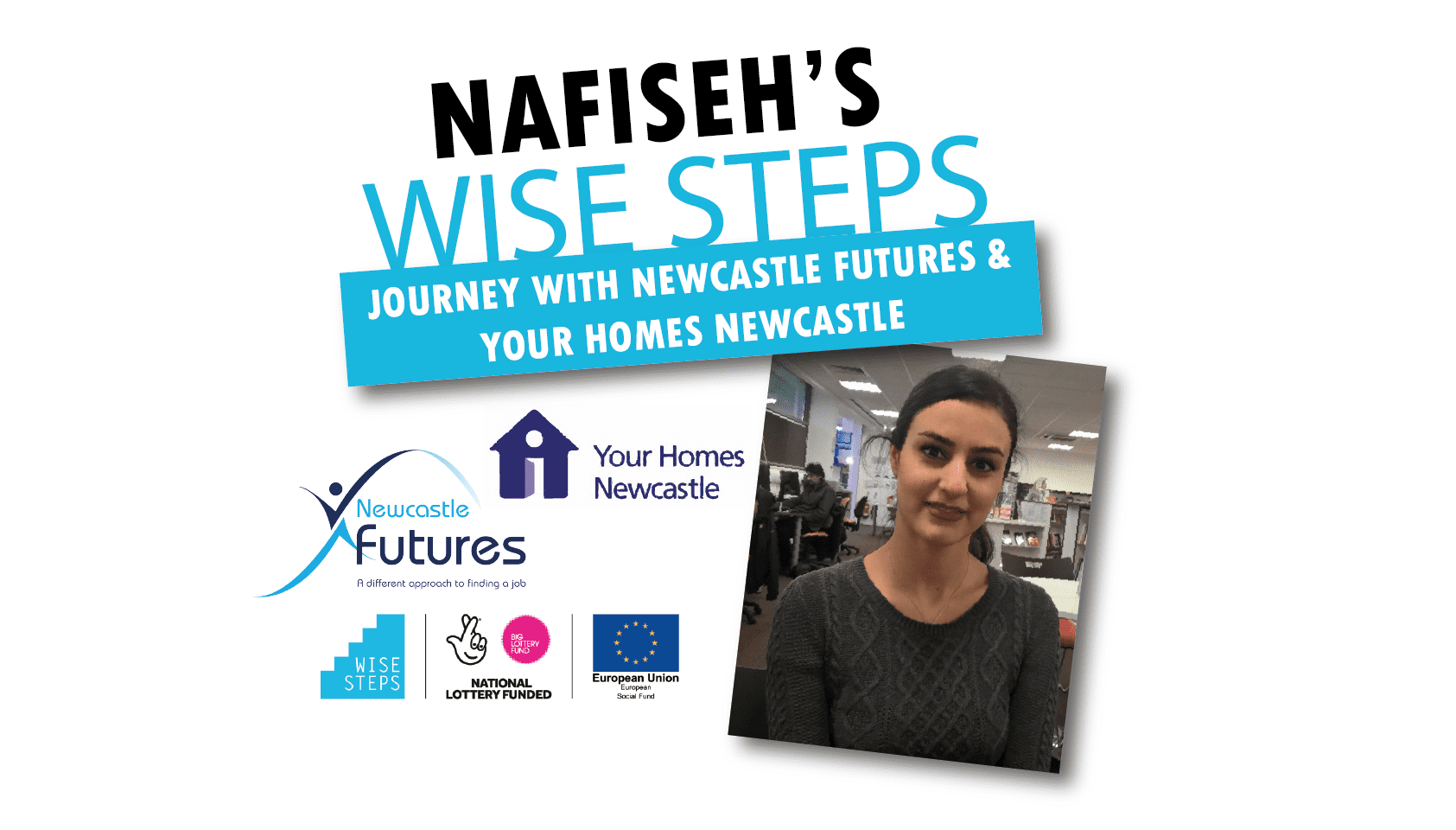 Long-term unemployed and Wise Steps participant Nafiseh Karami has transformed her life in only four months thanks to support received from the employability programme.
For over two years, Nafiseh struggled to find work and was lacking the confidence needed to progress in her career. This had a big impact of Nafiseh's wellbeing and self-esteem, leaving her without the self-assurance to pursue certain jobs.
As English is not Nafiseh's first language, she thought she wouldn't be considered for most jobs, especially in an office environment. Nafiseh also felt she would be judged for her lack of language skills, so decided to sign-up to the Wise Steps programme to get some support.
Wise Steps offered Nafiseh tailored one-to-one support for 18 months, to help her take positive steps towards employment. Wise Steps Coach Paulina from Newcastle Futures worked closely with Nafiseh to identify her main barriers and ways to tackle these challenges.
Nafiseh, 28, from Newcastle Upon Tyne said: "Paulina has helped me so much to improve my self-confidence. She is always available for a chat and has kept up to date with my situation. I have received amazing support and advice and have always felt encouraged to take positive steps."
Nafiseh took advice from her coach and completed a three week training course with Your Homes Newcastle (YHN) to gain experience in the Admin Sector and Business Admin Level 1. The course was a gateway for an interview with YHN and Nafiseh was successful in securing a full-time position as an Admin Assistant.
Nafiseh added: "The support from Paulina and Your Homes Newcastle was invaluable. I really enjoyed attending the course and even received financial support to help with interview clothes and support with my travel costs. With the help from Wise Steps, I built up my confidence and self-esteem, improved on my language skills and learnt how to communicate with others.
"It's really a huge change in my life. I was unemployed and now have a job with a great organisation. Without the support given, I would be still unemployed and counting the days to receive my benefits. Instead, I feel very positive about my future and what I can achieve."
To find out more about the Wise Steps programme, please visit www.wisesteps.org.uk or call us on 0191 242 4898.