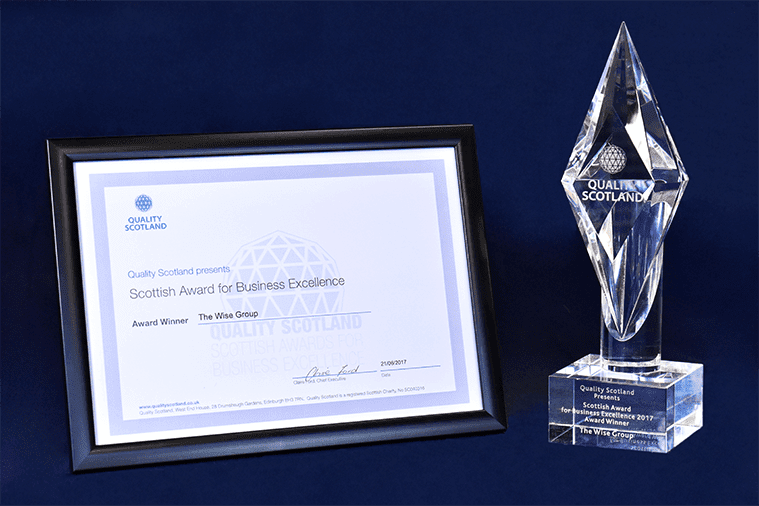 Building on previous success, the Wise Group, a leading social enterprise in Scotland and the north east of England, secured the Scottish Award for Business Excellence 2017.
The award from Quality Scotland was based on a rigorous assessment of business practices and achievements using the European Foundation for Quality Management's (EFQM) business excellence framework. The organisation also won the award in 2015 demonstrating its sustained and continued focus on excellence. In addition to the top award, the Wise Group also won another three awards:
EFQM's Recognised for Excellence 5 star award;
a good practice award for Leading with Vision, Inspiration and Integrity;
and a good practice award for Managing with Agility.
EFQM was established as a European excellence model and is now recognised globally. Businesses regardless of size, industry and sector use the model to plan and deliver excellence, and benchmark results with others. EFQM is launching a new Global Excellence Index which will feature all award winning organisations.
"Achieving these awards demonstrates our commitment to excellence.  Through inspirational leadership, our ability to translate vision into service delivery and our passionate and committed team, we are able to manage change in an increasingly challenging environment.  Our customers and partners can be confident in our ability to continually improve and develop high quality innovative services which have real impact on society." Jacqui Hepburn, Deputy Chief Executive
EFQM is recognised across the private, public and third sectors. The achievement of these awards by the Wise Group signifies the crucial role the third sector plays in the delivery of high quality services. It will be more important than ever for organisations to change and adapt to provide effective, efficient and valued services aligned to customer needs.