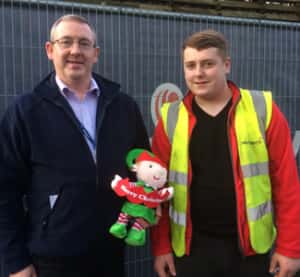 Mc Taggart Group welcomed Wise Group's Employability Elf, Arthur, today as he called in to say thanks for helping people back into work.
The construction group has teamed up with the social enterprise to offer work opportunities for young people from some of the most disadvantaged areas of Glasgow.
The foundations of the partnership were built in October this year, focussing on McTaggart's site on  Ashfield Street, where they are building 48 new homes for Hawthorn Housing Co-operative.
Jobs and training opportunities were advertised around the site and Hawthorn tenants were informed about the opportunities, which resulted in nearly 50 people showing interest.
Through the CashBack for Communities programme, The Wise Group were able to offer eight 16-24 year old's construction-specific training over a two week period, this was followed by a further fortnight's  work placement on McTaggart's sites.
McTaggart's site management team were so impressed by four of the young people that they were offered full-time, permanent positions with the business.
If you'd like to know more about how Wise Group employability projects could benefit you, or your business, call 0141 3033131 or email enquiries@thewisegroup.co.uk
Or, to see more employers visited during the campaign, follow #12EmployersOfXmas on Twitter.