In October last year, the Wise Group-led New Routes Mentoring Public Social Partnership removed the upper age limit of 25 to allow access for all males serving a short-term prison sentence – expanding this successful nationwide mentoring programme.
The expansion came following a temporary suspension of the Throughcare Support provided by the Scottish Prison Service (SPS) due to operational reasons.
Now, four months in, we consider the impact of opening up the service to provide vital wraparound support and guidance to even more people.
We found that there has been a clear demand for the expanded New Routes Mentoring Service – twice that of what it had been – reaching 80+ each month for the first two months alone. To date, 273 people have started on the programme, proving that there is a clear need for support for all age groups as they leave prison. That's 273 people being supported for up to six months in their communities as they begin their rehabilitation journey.
Based on this early demand along with data outlining actual prison releases in April, we anticipate monthly sign ups to New Routes Mentoring to be 127 per month from April 2020. It's worth remembering that New Routes Mentoring is an entirely voluntary service, there to augment existing statutory services, fighting their corner, acting as the superglue that binds the person to essential services through person centred mentoring support. People join New Routes Mentoring because they know it makes a difference to them.  In January, only one person decided not to join the voluntary service.
Why such demand? While there are a number reasons for this increase in starts to New Routes Mentoring, we know that the complexity of needs that are being presented by our customers is increasing.
Customers supported pre-October 2019 (under 26 year olds only) needed help in 5.9 out of 9 areas, compared to 7.6 out of 9 for the current group. Added to this, needs that have been identified are higher in every area.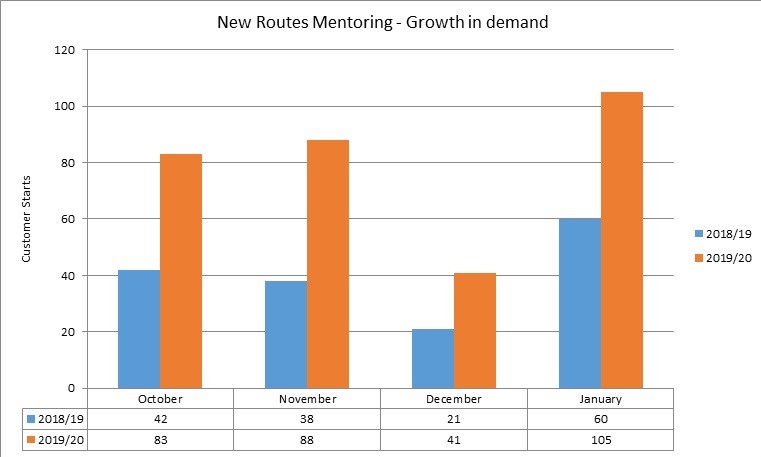 Let's talk
If you'd like to work with the Wise Group to support people in the justice system and help reduce the number of victims of crime, then get in touch.