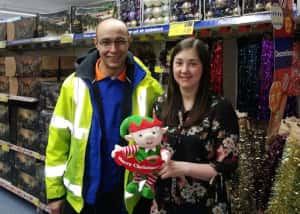 Employability Elf, Buddy, visited the Castlemilk branch of B&M Home Stores in Glasgow to say thanks, on behalf of the Wise Group, for helping unemployed people in to work.
B&M have worked closely with various Wise Group projects including the Work Programme, Cashback for Communities and the Way Ahead project in recent months, offering participants both placements and permanent retail positions.
Since September seven individuals have started working at B&M stores across the city with the employer listening to their needs and supporting their transition back to work after being unemployed.
Lianne Leckie, store manager from the Castlemilk branch thanked Buddy for the gifts and said: "Working with the Wise Group has helped us recruit fantastic staff particularly throughout the Christmas period. I look forward to working with them in the future."
Clifford Whitely (pictured right with Lianne) is now working in the Castlemilk branch after being referred by the Way Ahead project.
If you'd like to know more about how Wise Group employability projects could benefit you, or your business, call 0141 3033131 or email enquiries@thewisegroup.co.uk
Or, to see more employers visited during the campaign, follow #12EmployersOfXmas on Twitter.