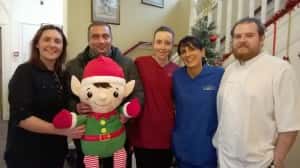 Kennedy Care Group received Christmas cards and gifts today from Employability Elf, Arthur, who called in to say thanks, on behalf of the Wise Group, for supporting their projects.
Arthur popped in to the care provider's Redwood House, in Dundee, on day 10 of the #12EmployersOfXmas campaign, which recognises employers for their role in helping unemployed people into work.
Kennedy Care Group has worked closely with the Wise Group in recent months, offering many opportunities to project participants.
One person to benefit from their involvement is Mohsen, who came to Dundee from Spain. Mohsen heard about the Wise Group via a community organisation and after an assessment with a work coach started training and skills development to improve his work prospects.
With support from the Wise Group's Employer Engagement Team and armed with a new CV and refreshed skills Mohsen applied for a placement as a cook with Kennedy Care Group.
The placement enabled Mohsen to demonstrate his aptitude, skills and previous experience in this in this sector, which was noted by managers, and led to the offer of a full-time position. He is now settled in the city and has become an integral part of the team where he joins four other Kennedy staff members supported by the Wise Group.
If you'd like to know more about how Wise Group employability projects could benefit you, or your business, call 0141 3033131 or email enquiries@thewisegroup.co.uk
Or, to see more employers visited during the campaign, follow #12EmployersOfXmas on Twitter.