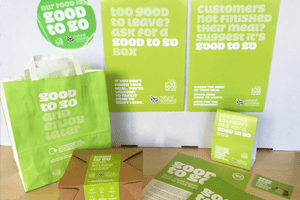 The Wise Group is delighted to be delivering Zero Waste Scotland Good to Go scheme. Good to Go is a national scheme backed by the Scottish Government offering diners branded 'doggy bags' in a bid to cut food waste.
Food waste is a major issue costing the Scottish hospitality industry an estimated £64 million a year. Zero Waste Scotland estimates that 53,300 tonnes of food is wasted from Scottish restaurants every year and that two-thirds of that could have been avoided.
A pilot scheme which ran in 16 restaurants in spring 2014 showed that there were clear benefits for the restaurants that participated. Plate waste was reduced by 42%. Customers felt that they were being offered an enhanced service by restaurants and welcomed the option of taking their uneaten food home.
Some restaurants reported an increase in sales as customers felt more confident in ordering a meal or extra course knowing they could take it home. Feedback showed that staff felt that offering customers a doggy bag was a positive way to enhance the sustainability credentials of the business.
The first 100 restaurants who sign up to the scheme will receive a free supply of Good to Go containers, bags, promotional materials such as table top adverts, posters and window stickers and guidance on how to take part.
If restaurants across Scotland routinely offered doggy bags it is estimated that this could save the equivalent of 800,000 full meals going into the bin every year.
If you would like to sign up as a 'Good for Go' business contact Goodtogo@thewisegroup.co.uk or phone 0141 314 1436 (9am–5pm, Monday to Friday).