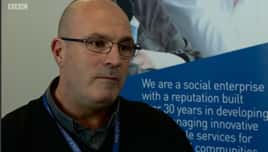 BBC Report Featuring The Wise Group leads to a sister reaching out
The Wise Group was featured on BBC Reporting Scotland this week as a response to Her Majesty's Chief Inspector of Prisons for Scotland annual report. Joe Bowden was interviewed to discuss the peer mentor approach the Wise Group uses to transform the lives of offenders.
The morning after we received a phone call from a girl whose brother is currently serving a prison sentence in HMP Addiewell. She wanted to know if the Wise Group could do anything the help him.
The girl spoke about how her brother is desperate to turn his life around and that he needs help and guidance to get him on the straight and narrow.
She said all her family are anxious for him to get support so that they can all have a better future together.
His sister felt that most of his offending is caused by his alcohol addiction and believes he is currently receiving support in Addiewell to overcome his addictions issues.
She also mentioned that her brother suffered trauma as a child, witnessing a friend being run over and killed by a car, and does not think he received the right support at the time.
After speaking to the prison mentor for Addiewell we let her know that her brother has already signed up to our New Routes programme and is receiving support from our mentor, the sister was delighted.
The girl hung up saying that we had made her day and she is now convinced that her brother really wants to change his life for good.
Since the phone call the mentor has been able to refer the family to families outside, an independent charity helping prisoners families in Scotland. They will be able give the family support and information to help them cope with their situation.
If you have a relative in prison and want to know more about the service we offer visit our Help for Offenders page.