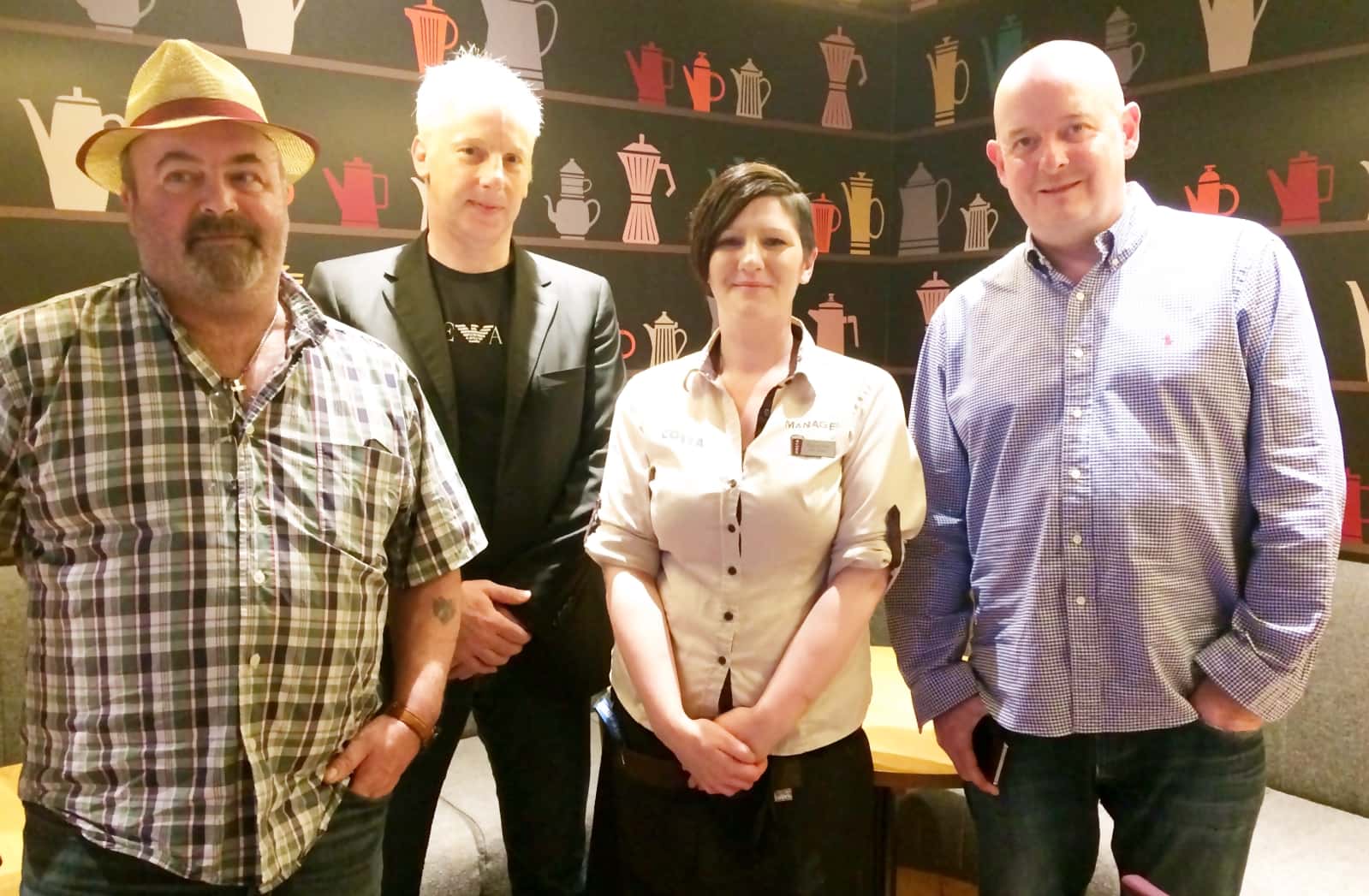 Photo From Left: Kevin with Steve Camm from North East Social Enterprise Netwrok (NESEP), Costa Manager Katy and Wise Steps coach Jimmy from North Tyneside Council.
Kevin has been receiving support from Wise Steps partner North Tyneside Council for around 6 months. He was referred to our programme by Jobcentre Plus and was extremely dishevelled and, by his own admission, was pretty much at rock bottom. Kevin suffers from anxiety and mental health issues. He didn't think that anyone would be able to help him as he had been let down in the past, but his Wise Steps Coach, Jimmy Costigan worked hard to build up rapport and trust.
Over time, Kevin talked through his situation and his difficulty in being able to cope financially with his coach. One thing stopping him moving forward was lack of ID to be able to do simple things, such as open a bank account in his own name. He was therefore supported with some solicitor fees in order for him to get his name change documents. From then, he became more confident that he could be helped and actually looked forward to his appointments with Jimmy.
A common theme in his one-to-one meetings was his love of art, and his coach discussed the possibility of self employment. Kevin was initially sceptical and a little nervous, but open to meeting with a social enterprise expert. He was introduced to Steve, an advisor from North East Social Enterprise Partnership (NESEP) and this was the real start in getting him on a completely positive path.
With weekly meetings with his coach, Kevin is going from strength to strength. Of course, there have been issues along the way but Kevin has had the support of his coach to help resolve them and keep him motivated. He has begun producing art work and an amazing pace and his advisor from NESEP has helped him get his price point correct. Kevin is getting really close to trading and coming off his benefits.
His coach was so impressed with his work that he negotiated with the manager of a local Costa Coffee to allow him to showcase some of his work. This was quite an achievement as Costa do not normally allow such things. The showcase was a huge success and Kevin really enjoyed the day and said this really boosted his confidence. He was able to make some really good contacts and actually took a couple of commissions for work. Work continues with Kevin and his coach is confident it is just a matter of time before he is self employed and perhaps trading on an international scale!
North Tyneside Council (NTC) have been working with residents that have many barriers and issues to overcome in order to progress in their lives. NTC ensure people are listened to and the support is tailored to meet their individual needs. Through the Wise Steps programme and great partnerships with specialist partners, NTC are seeing our residents make really positive steps.