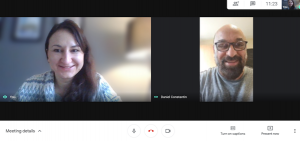 Daniel joined the Wise Steps programme in October 2020. Looking for some support to help him get back to work he out to Paulina Poole from Newcastle Futures. Despite the lockdown restrictions caused by the Covid-19 pandemic, he was eager to engage. Even though he wouldn't be able to benefit from face-to-face meetings, Daniel was keen to work virtually through video calling. He took this opportunity as a lesson in IT, learning how to present himself and feel comfortable in front of the camera. This helped him to prepare for the new world of video interviews.
Facing Set Backs
Previous to joining Wise Steps, Daniel had completed SIA training. However due to lack of funds, he was unable to apply for a badge meaning he was not able to secure work.. After discussing his situation, Paulina looked at ways of funding his SIA badge. She was able to identify a discount which led to Daniel applying for Door Supervisor and CCTV Operator positions.. Soon after this was sorted, he was invited for an interview with Phoenix Security. Wise Steps helped supply him with some smart clothes as the interview was carried out face-to-face and it went so well that he was offered the job. Unfortunately, due to the worsening pandemic, this all happened in the lead up to the winter lockdown, meaning once restrictions were in place he was unable to start.
A Break Through
Undeterred by this set back, he continued to apply for jobs and as eventually offered one as a Lab Technician. The recruitment process was far from straight forward and Daniel's determination truly began to show. He completed his application in October, but was only invited for an interview in December before recently finding out his start date was mid-February! Paulina encouraged Daniel to stay in contact with the employer and send gentle reminders that he's still interested and waiting for the next step – it all paid off in the end!
Daniel worked with the Wise Steps team to figure out the best way of getting from Walker to Gateshead. This led him to get a better understanding of the local public transport network, using both bus and Metro. Paulina also helped Daniel to download an App on his mobile, using Newcastle Futures Online training – WWWO – Downloading Apps. After so many months waiting Daniel is now ready to start his new job as a Lab Support Worker.
This is a real testament to Daniel's grit and determination which helped him keep moving forward despite facing set backs. Good luck Daniel and all the best for the future!
Get in Touch
Could you or someone you know benefit from 1-2-1 support from Wise Steps? Head over to our page to find out more or click here to read more success stories!