The Wise Group has led a rapid response to some of Scotland's biggest civic challenges since the COVID-19 outbreak, to continue to support those who need it most. We have led the national response to support prisoners early release, are tackling unemployment and fighting fuel poverty. But how to continue to deliver basic digital skills support at a time of digital dislocation for so many?
One thing that has become abundantly clear to us in recent weeks is, that even in 2020, not everyone in society has the means or the skills to instantly transition to a world of remote working, learning and living. Technology has become front and centre of how we will navigate these unchartered waters.
Through the DevicesDotNow initiative from Good Things Foundation, the Wise Group was selected as one of over 100 organisations across the UK to receive 10 tablets, donated by telecoms giant, BT. We have since hand-delivered (safely, of course) the tablets to customers in Glasgow, Greenock, Motherwell, Newcastle and Port Glasgow, who were put forward by their respective projects; Fair Start Scotland, Wise Steps, HEAT, New Routes, SHINE and our Skills and Training courses.
The tablets are theirs to keep, and have been pre-loaded with an EE sim card giving 28GB of connection for a full year.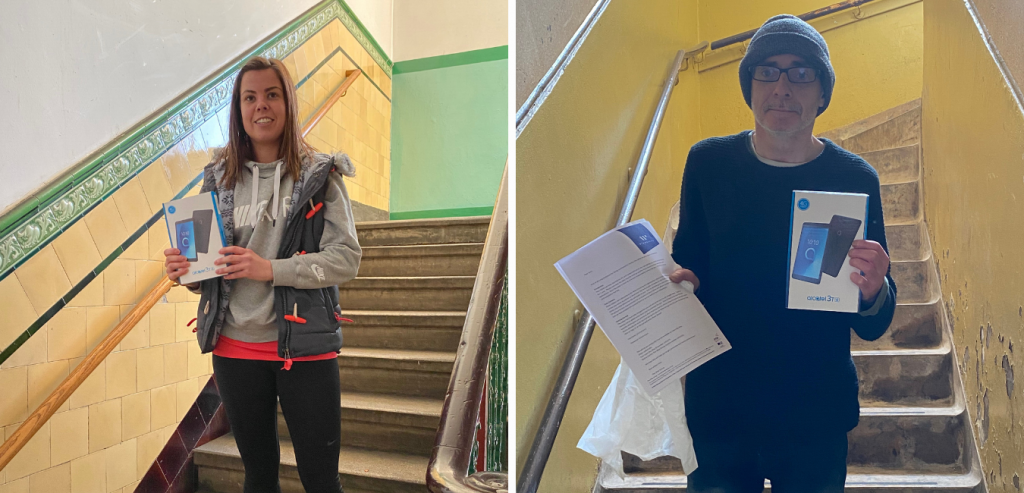 Danielle has since been in touch to say; "I am absolutely delighted with the tablet, thank you so much. I have been able to get onto my Universal Credit account easily, and have already taken part in two group meetings on Zoom."
Furthermore, we have received funding from Foundation Scotland's Response, Recovery and Resilience Fund to purchase 5 laptops, which our Skills and Training team will use to deliver online training as this period of lockdown continues. A high number of our existing Skills and Training customers whose digital skills course was affected by COVID-19, had limited or no digital access to be able to continue their learning online. Now, we can offer those people the opportunity to learn from home, with a slightly modified digital skills programme (in partnership with Glasgow City Council and, global IT consultancy firm, CGI), as well as CSCS training for the construction industry and pre-employment training to those preparing to get back into work in the near future.
Additionally, we are excited to partner with the UK-wide Make It Click initiative, also from Good Things Foundation, introducing our customers to their Learn my Way website, empowering improvement in their digital skill set and digital confidence.
The Third Sector's response to supporting people navigate this "new" digital world has been nothing short of inspiring, and at the Wise Group, we are incredibly proud to be part of this and other initiatives such as the Scottish Government's No One Left Behind Digital Scotland initiative which we hope to support through being a training and distribution centre servicing like minded support organisations and the people they work with.
Evelyn Rimmer, our Strategic Development Lead for Employment Services and Skills, set up the collaborations after seeing first-hand the impact of COVID-19 on digital skills provision to customers. She said, "More technology kit is vital to bridge the digital black hole many of our customers are experiencing. It will help us support the digital skills our customers need to engage in our 'new' society and labour market."
Let's talk
If your organisation has an interest in supporting this work, or is innovating other ways in which to challenge the digital divide, we would love to hear from you.