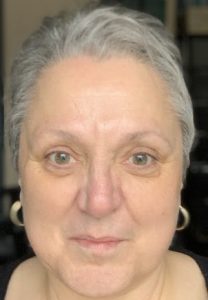 Two years ago, Lynda landed what she thought was her dream job. At 52, all of the work she'd put in to get to this point had seemed like it was paying off. However, due to her new working environment not suiting her mental wellbeing, she found herself with no other option but to resign. In turn, her mental health took a plunge, suffering from sever anxiety, depression and paranoia. Lynda's confidence took a massive blow and, despite 35 years of employment behind her, her self-worth plummeted.
"I felt judged. As far as I was concerned I was a failure and had let my colleagues, my husband and my family down."
A glimmer of hope came in the form of a meeting with WHiST job coach Asia, who referred Lynda to the Wise Steps programme. Although sceptical at first, Lynda gave it a shot and soon began to revel in the opportunities offered to her by Wise Steps. Working with Asia, Lynda identified the obstacles that were stopping her from returning to employment and worked alongside the WHiST team create an action plan.
As her confidence grew, Lynda found herself participating in wellbeing excursions to York, taking art courses and receiving financial inclusion support from Citizens Advice South Tyneside. This inclusive approach to wellbeing is a central pillar of Wise Steps and has helped to give Lynda her lust for life back.
"I felt and still feel lucky and thankful because the support of the Wise Steps Project helped me find my self worth and purpose again. I even managed to find things out about myself I never knew I was capable of!"
Having bounced back, Lynda is now hoping to find work in her community as a Peer Supporter or within the mental health community. 
A huge congratulations to Lynda and the WHiST team!
Wise Steps is delivered by the Wise Group and funded by the National Lottery Community Fund and the European Social Fund and provides support for people in Tyne and Wear that want to transform their lives. Working in partnership with local organisations Wise Steps provides one to one support to people facing barriers assisting them to access employment and work experience opportunities, supporting them to achieve qualifications and improving their wellbeing and life chances.
For more information on how Wise Steps could help you take the first steps towards employment, head over to our page where you'll find more about the project and can register your interest in our services.