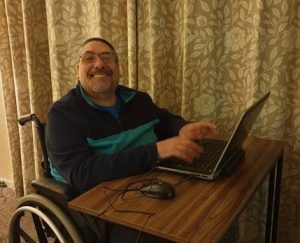 Warren reached out to Wise Steps in late 2019, looking for some much needed support. Although he wanted to find a pathway back in to work, he understood that his lack of IT skills were going to create a significant barrier for him. Working with Ann at Building Futures East, they established an action plan that included building his social network and working on his digital skills.
Whilst he worked on improving his use of technology, COVID-19 hit. Warren had been working hard on expanding his relationships within the community and the lockdown closures meant that the activities he'd been enjoying would have to come to a temporary halt. As well as this, Warren did not have access to a device, so was relying on his local library which was also forced to close it's doors.
Thankfully, his work coach made a referral in to Wise Steps specialist partner Leonard Cheshire to help get Warren online and allow him to continue his digital development. With the help of Andrea at LC, Warren was able to get access to his own laptop. This new bit of kit means that he's now able to shop online and access social media, providing him with a way to easily connect with his family and friends.
Warren put his new found IT skills to use over the Christmas period where he organised and hosted his first ever family Zoom quiz.
Congratulations to Warren on his journey so far and to both Building Futures East and Leonard Cheshire for their success so far!
Wise Steps is delivered by the Wise Group and funded by the National Lottery Community Fund and the European Social Fund provides support for people in Tyne and Wear that want to transform their lives. Working in partnership with local organisations Wise Steps provides one to one support to people facing barriers assisting them to access employment and work experience opportunities, supporting them to achieve qualifications and improving their wellbeing and life chances.
Reducing social isolation and promoting digital inclusion is a cornerstone of the Wise Steps programme. If you, or someone you know, is out of work and struggling with their digital skills or accessibility, Wise Steps can help you. To find out more or to register your interest click here to be directed to our page.