North East Social Enterprise Providing Digital Support for Out of Work Residents
The Wise Steps programme, managed by the Wise Group, is open for business and continues to provide vital support to the most vulnerable residents of the North East throughout the COVID-19 crisis and beyond.
The most recent unemployment statistics (16 June 2020) released by the ONS show that the North East remains top of the table when it comes to unemployment rates of residents aged 16 and over, sitting at 5.2% as well as the fourth highest level of economic inactivity. Whilst it may be tempting to celebrate the one percent reduction in unemployment rate against the ONS' previous release, it's important to understand that number has likely been achieved by people enrolling in short-term and temporary work in supermarkets and fulfilment centres to ease the stress of heightened consumer demand for everyday essentials. What the report does not highlight is the looming wave of redundancies and unemployment we see sitting on the rapidly approaching horizon. Nissan have recently announced 248 job losses at their Sunderland plant due to a drop in demand, despite plans re-open production lines; a trend we can expect to see replicated across many industries.
Taking a one-to-one approach to customer support, Wise Steps coaches focus on addressing barriers people may have to work. From health and wellbeing to financial inclusion, dedicated coaches work with customers to understand how these barriers can be removed. Working in conjunction with a team of delivery and specialist partners, Wise Steps provides customers with tailored support to help them take the first steps towards employment.
Managed by the Wise Group and funded by the European Social Fund and The National Lottery Community Fund, Wise Steps has continued to provide tailored 1-2-1 support to our residents during these uncertain times.
Like many organisations, the Wise Steps team have worked to re-model the programme allowing for a heightened digital delivery, allowing residents to access necessary support and guidance safely during this crisis. Coaches regularly hold phone and video calls with their participants to assist them in their journey, as well as organising wellbeing activities and deliveries to promote social inclusion and boost morale.
"The North East has been hit very hard by unemployment recently, with the ONS reporting us as having the highest unemployment rate of residents over the age of 16 years at 5.2% in comparison to the UK average of 3.9%" says Caroline Tolchard, Wise Steps Tutor. 
"With the COVID-19 restrictions providing challenges around person-to-person delivery, we've really embraced a digital delivery model, continuing to provide face-to-face learning, through video link. For example, Wise Steps tutors have been hosting sessions over Google Classroom, to ensure that we are still able to support our participants through this difficult time. Coaches have been organising the delivery of wellbeing packs, and we've even been able to provide some participants with tablets from DevicesDotNow, to improve their access!"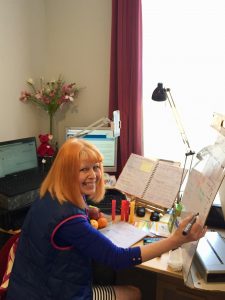 Although employment is a focus of the Wise Steps programme, the team work to ensure each individual is able to understand their barriers and work with our team to prepare them for the job search process. We understand that these obstacles can vary depending on the person and each participant's journey is unique; from social isolation to mental health issues, housing worries to financial anxieties. Through person centred coaching and support from specialist partners, participants are supported on the journey towards employment, helping them to tackle each hurdle one by one with the goal of sustained and gainful employment.
Wise Steps is delivered by the Wise Group and funded by the National Lottery Community Fund and the European Social Fund provides support for people in Tyne and Wear that want to transform their lives. Working in partnership with local organisations Wise Steps provides one to one support to people facing barriers assisting them to access employment and work experience opportunities, supporting them to achieve qualifications and improving their wellbeing and life chances.
The Wise Steps programme is still open and welcoming new participants. If you'd like a helping hand to prepare for work visit www.WiseSteps.org.uk or call us on 07990 540 794 to speak directly to one of our coaches.