"As long as the ties that bind us together are stronger than those that would tear us apart, all will be well"
A team of mentors from the Wise Group was on hand during a 12 day residential course – Tribal Home – for people who want to change their lives, find new opportunities and move into employment.  
The army style residential, which took place at Barry Buddon Training Area near Dundee, was delivered in partnership with the British Army, Community Justice Scotland and the Wise Group. Trainees – some of whom had previous convictions – were challenged mentally and physically, pushed to the edge of their comfort zones by experienced army trainers.
Four mentors from the Wise Group stayed on the base, living in the dormitories with the 13 trainees. They provided 24/7 support and encouragement, helping when trainees felt pushed to the edge, and intervened when trainees were flagging  – missing alcohol, gaming or fast food. Our qualified counsellor, Alex Cochrane, was also there, providing valuable group therapy and one-to-one support.
One mentor, Stephen Delany, said:
"The key to building cohesion with a group of 13 strangers is the group contract. That's what we did with the trainees over the first day or so. They set their own rules and then, over the two weeks, they held each other to those rules. The result was a self-governing group of people who felt like they owned the programme."
"I was there for the first three nights. I just loved being there and supporting the trainees. I even went back on the first weekend to help out again."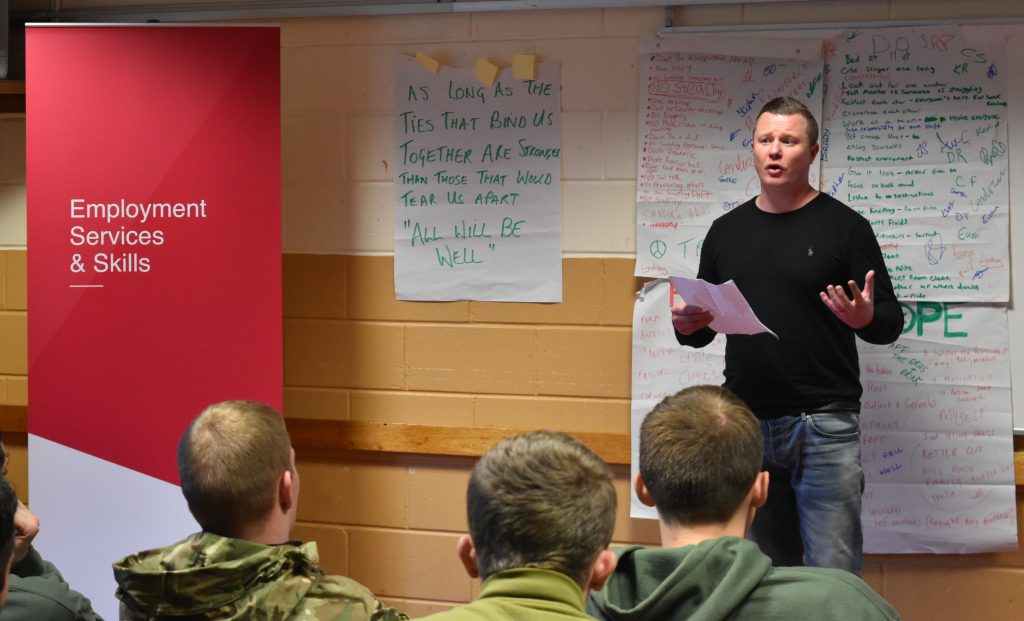 Tribal Home is a totally abstinent programme – with no alcohol or drugs. This was a large part of some trainee's social lives before the programme and had been a factor in their offending. That's where onsite mentors are invaluable, working one-to-one with trainees to ground them and find a positive outlet where they would otherwise have turned to alcohol or drug use.
Our experience of delivering New Routes Mentoring – the largest justice mentoring programme in Scotland – means that we know first-hand how a mentor that guides and empowers is a key factor in desistance. In fact, in over half of cases, customers stated their mentor was the single most important factor in their improvement. 
Once the physical activity was done, our team was able to offer coaching focusing on moving in to employment. Covering everything from job search to interview skills and CV writing, we were able to bring practical skills to the course.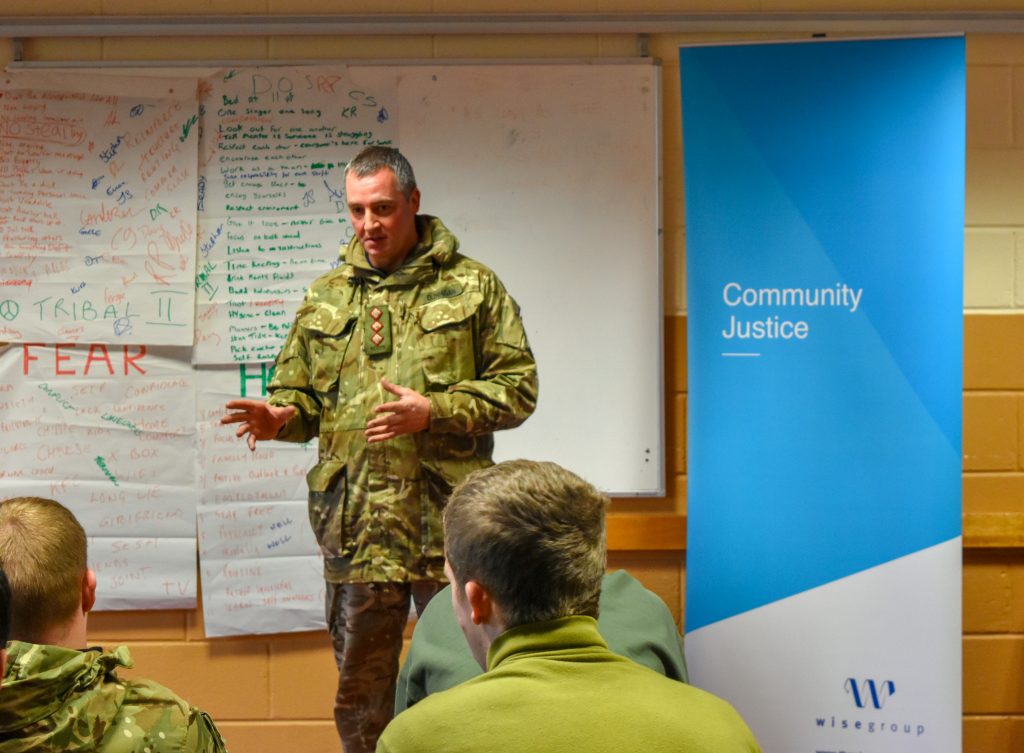 Creating employment opportunities
As well as taking part in army training, Tribal Home offered opportunities for employment.  Research by the Ministry of Justice found that securing a job reduces the chance of someone reoffending by 50%. The Wise Group has 30-year history of supporting people in to work, and we are a lead delivery partner for the Scottish Government's Fair Start Scotland.
On the penultimate day of Tribal Home, we organised a careers fair for seven employers who wanted to employ motivated and responsible individuals who can follow instructions and work as a team – something the Army has developed in each of the trainees in the 12 days.
Scottish Building Federation, AC Whyte, Interserve, Poundland, Ark Housing, Crossroads Care and Ogilvie Group all spent the afternoon on the base getting to know the trainees.
Liz Yuile from facilities management firm, Interserve, said:
"I was delighted to be invited to Tribal Home and offer employment to an outstanding cohort of individuals. I was deeply moved by their stories and impressed by their maturity – I could have employed them all. They were polite, confident and committed to making a future for themselves in the workplace. The Army structure has taught them a lot in just 12 days! I have offered one of them a job!"
The career fair was designed to end the programme on a high – showing the trainees a range of opportunities available to them.  One trainee said:
"I genuinely felt the backing from the employers has given me the encouragement and determination to secure employment. I wasn't judged by my past from anyone and I now realise that I created a barrier for myself."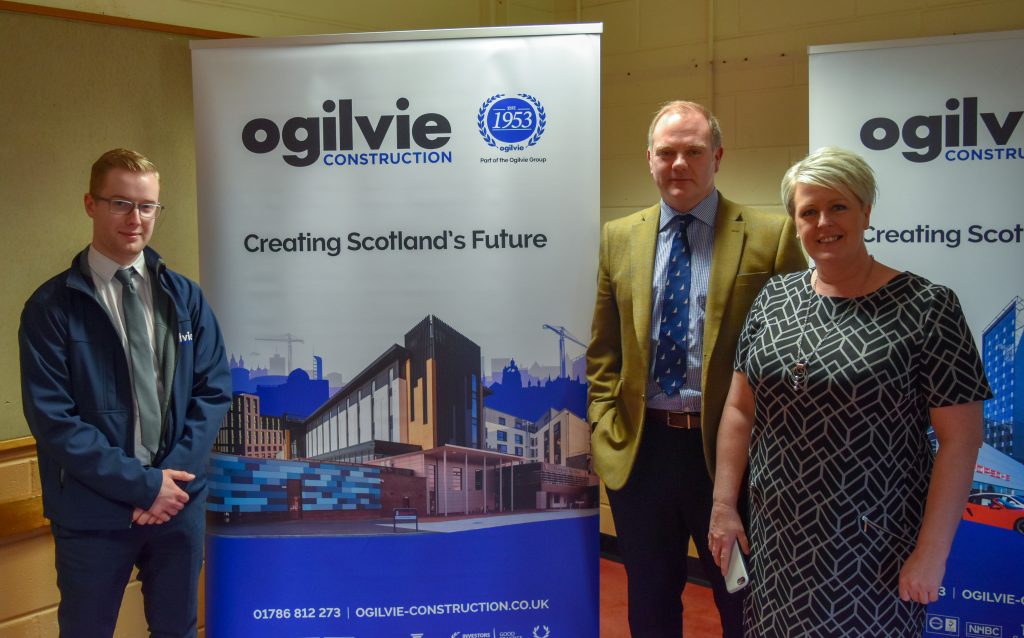 Supporting employers through Release Scotland
The Wise Group is a founding member of Release Scotland – an organisation which supports businesses interested in employing people with convictions
Keith Rosser, Chair of Release Scotland, said:
"There is a large untapped talent pool of people with convictions that are often overlooked by employers. Those who look beyond a historic conviction may be surprised by the quality, integrity and work ethic of those with convictions".
Judging from the response of the employers who came up to Barry Buddon, that certainly appears to be the case.
Let's talk
If you'd like to work with the Wise Group to reduce the number of victims of crime, then get in touch. With employment shown to reduce reoffending, helping the rehabilitation of people with convictions through employment makes our society safer.