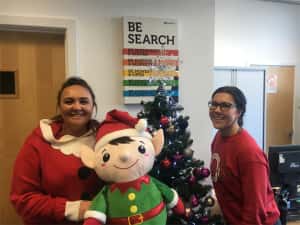 Search Consultancy didn't have to look far to find some festive fun on day 6 of the #12EmployersOfXmas campaign as Wise Group's Employability Elf called in to their Dundee office.
Arthur is one of three elves touring 12 employers in the 12 days leading up to Christmas to say thanks for the support they've shown to Wise Group employability projects.
Search Consultancy are a recruitment agency that have 13 offices across the UK, in Dundee they've been particularly helpful in finding work for Wise Group Academy graduates.
Gordon is one such graduate, who after completing Call Centre Academy training, successfully applied for a job at a city based call centre, with help from Search.
Previously Gordon, 54, had been unemployed for 4 years and had attended 'every job course going' but after being referred to Wise Group via his job centre he reluctantly agreed to try the Call Centre Academy.
Despite his reservations Gordon settled in quickly, gaining new-found confidence and skills. He completed the course with boosted self-esteem, also picking up an accredited qualification.
A few weeks later and Gordon is now thriving in his new call centre role, receiving further training from his new employer to expand his knowledge of the business. Gordon even revisited the latest Call Centre Academy to tell his story and inspire others, also thanking Wise Group and Search Consultancy for their help and support.
(pic: l-r Mhairi, Arthur and Darryl at Search Consultancy)
If you'd like to know more about how Wise Group academies could benefit you, or your business, contact our Dundee office on 01382 797817 or email enquiries@thewisegroup.co.uk
Or, to see more employers visited during the campaign, follow #12EmployersOfXmas on Twitter.