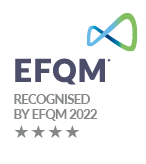 The EFQM Model is a globally recognised management framework that supports organisations in managing change and improving performance.
This model provides a blueprint for organisations across and beyond Europe to develop a culture of improvement and innovation.
The Wise Group recently undertook the rigorous EFQM assessment which involved 20 interviews and focus groups with over 60 of our colleagues carried out by external EFQM assessors.
We are therefore delighted to have been recognised by EFQM with 4 stars.
The EFQM interviewers commented that the words consistently being used across the enterprise were: colleagues, values, customers, stakeholders, partners, conversations, opportunities, engagement, mentoring, remote first, growth, kindness & wellbeing and… wise!
They also commented that we excelled in areas such as our culture and values, customers, colleagues, and partnership & transformation.
EFQM is a great opportunity to take a step back and review how far we have come in the past 2 years and make sure we are on the right path, achieving 4 stars means that not only are we on that path but we're a good way along it.